Dr. Gurunath ji Vishwanath Mungale (11th June 1940 to 6th August 2020) He was a spiritual literary, master and cicerone. He was a follower of 'Dattasampradaya'. He emphasized the importance of meditation, upasana, courage, creativity & humour. Save
Early Life
He was born in Brahmin family, (Mother Mrs. Kamalabai & father Mr.Vishwanath) on 11th June 1940 , at a holy place situated on the bank of Krishna river , Wai . District , Satara . His native place was Shengaon . Taluka Bhudargarh.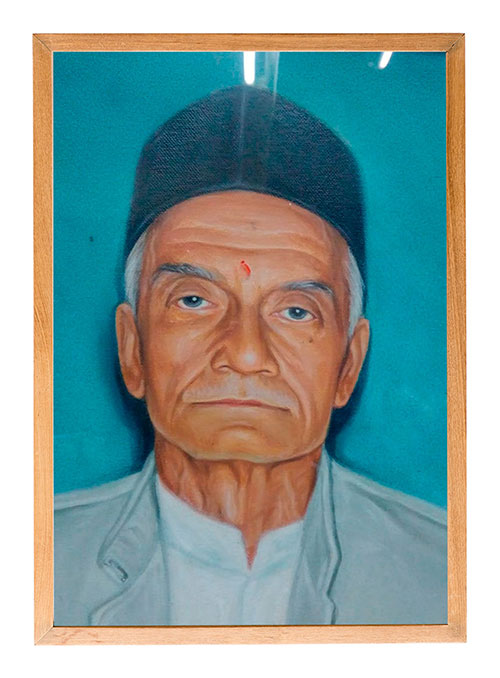 Father Vishwanath Mungale
Mother Kamalabai Mungale
Education
He  completed his school education from  Dravid high school Wai. He completed his graduation & masters in English & Sanskrit literature from Rajaram College , Kolhapur. Shri Gurunathji was known for his prodigious memory and reading ability since childhood. He was a founder of 'Atharv Gynanpeeth '.
Proffession
He was a professor of English at Government polytechnic college Pune and Kolhapur. He took retirement in 1999.
Personal Life
His Wife Late Mrs. Shailja Mungale.
Two Daughters Late Er. Mrs. Gayatri Ajay Deshpande & Dr. Gauri Mungale – Kahate.
Guruparampara
Respected Swami Swaroopanand from Pawas, District Ratnagiri was his guru. He blessed him on the occasion of Tripurari Poornima in the year 1969.
Personage
He practiced art of detached attachment. So, almost ten to twelve hours in a day he was in meditative state. He used to say practice effortless meditation for atleast twenty minutes in a day.
Since the age of 16 he used to recite 'Gurucharitra'  & did numerous 'parayanas'. His spiritual journey was phenomenal !!
For sixty years on the occasion of poornima he used to go to 'Narsingh vadi'  for   'sevavrat'.
Mission
He was a great orator, writer. He delivered many lectures on various Saints literature, philosophy, upnishad, Patanjali's Yoga Sutras, Bhagvat Gita  Most of his published works were compiled in the form of books, articles.
He was invited for National Peace conference at Delhi.
He was a chief guest & key note speaker for international astrology conference which was held at kolhapur.
Teachings
While studying, synthesizing various strands of Vedanta, philosophy he propogated the idea that the divine , the absolute exists in all human beings.
' Seeing the divine as the essence of others will promote love & social harmony '.
Each soul is potentially divine  manoeuvre it with mental discipline, Sadhana, worship, meditation.
Publications
Articles on Saints literature, philosophy in different magazines & news papers.
His books  in Marathi language –
Chaitanya dhara
2.Sadhakacha Pravas
Akshar bramha
Dhyan Yoag
Hiranyapath
Prachiti
In Daily Recital –
Shrikrishna Charita
Naamsudha
Bhavsudha
BhaktaTarak swamipath
BhaktaTarak Gurucharitra
Spiritual Biography –
' Ishwareccha'
Honors
1. Certificate of honour – 30/01/2001 on behalf of Pune Municipal corporation at the hands of Shri Shankaracharya karvir pith .
2. Cultural & literature honour on behalf of Shri Karvir Nivasini Purohit Mandal .
3. Dr. R. N. Pathak ,Miraj Smriti puraskar
4. Aalandi devachi.
5. All india kirtankul & siddhivinayak Sanskriti .
6. On behalf of Kolhapur municipal corporation karvir Bhushan in the year 2003
7. Shri Vatavruksha Swami Maharaj Akkalkot certificate of honour in the year 2006
8 . Freedom fighter L. Y. Patil trust , Hupari .
9. Shrimant Dagdusheth Ganpati Ganpati Trust Pune, Puraskar.2006
10. Shrimant Nanasaheb Peshwa dharmik & spiritual honour.
11. Rugved bhushan Puraskar 2017
12. Lifetime achievement award from Dr. D. Y. Patil university.
13. Doctorate in spiritual literature for his exemplary work in spiritual literature.
Nirvana
Sad demise on 6th August 2020